On September 25 to 27, four Non-Listed Company Roadshow sessions were successfully held during the three days at the 2021 China BioMed Innovation and Investment Conference (2021 CBIIC). All roadshows were screened by experts from CBIIC Review Committee, covering multiple therapeutic areas in urgent clinical needs. Non-Listed Company Roadshow presents a high-end display platform for high-quality innovative enterprises at home and abroad as well as innovative projects with great potential. All roadshow projects were highly recognized and paid attention by participants.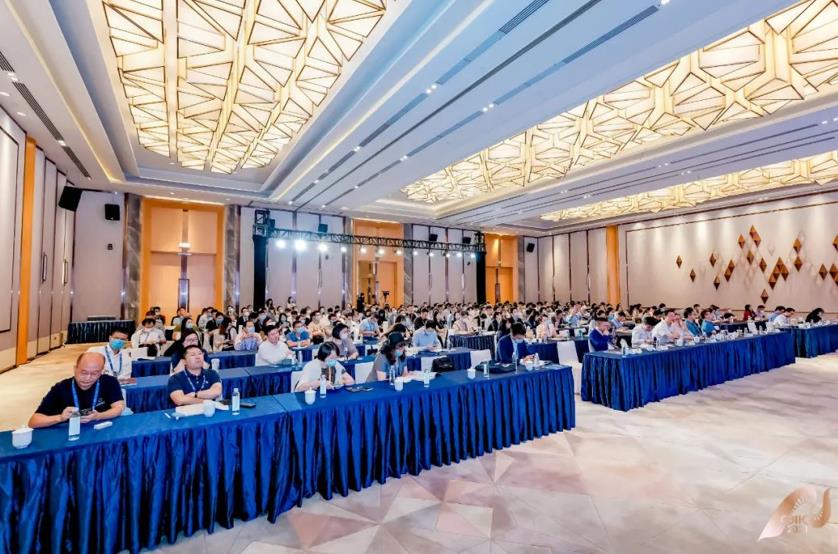 Non-listed Company Roadshow
Four roadshow sessions were chaired respectively by Yang Yehui, Head of Medical Industry and Assistant Director of Guolian Securities, He Juying, Head of Healthcare Equity Research of China Securities, Du Xiangyang, Chief Analyst of Healthcare Group of Southwest Securities, and He Fengzhi, General Manager of Beikang Healthcare.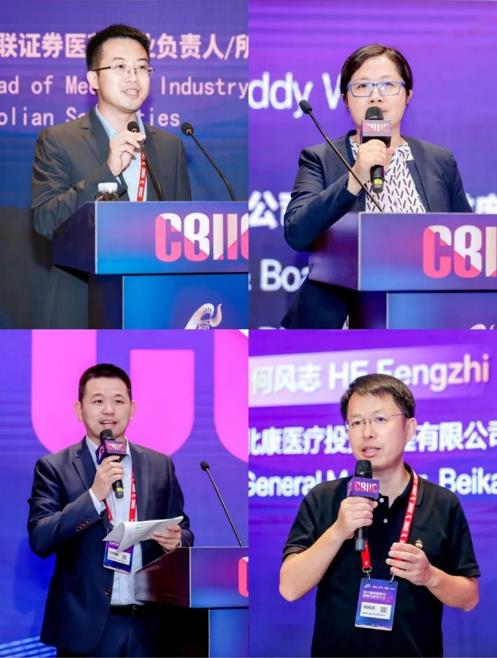 Moderators
Mr. Yang Yehui (upper left);
Ms. He Juying (upper right);
Mr. Du Xiangyang (lower left);
Mr. He Fengzhi (lower right)
On September 25 in the afternoon, Yang Yehui, Head of Medical Industry and Assistant Director of Guolian Securities, delivered a keynote speech titled with "The Investment Trend and Prospect of Innovative Drug Enterprises", illustrating the changes in the innovative drug industry from four perspectives: policy, industry, talent and capital. Through detailed data comparison, Mr.Yang compared the current stage of the innovative drug market and shares thoughts, outlook and suggestions on capital path planning, which are of great reference value to both investment institutions and innovative drug companies.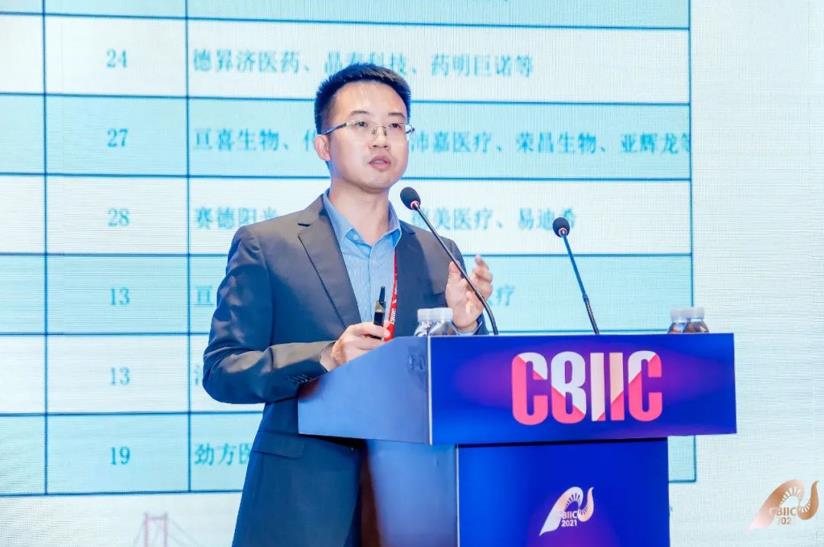 Mr. Yang Yehui gave a keynote speech
A total of 38 companies participated in the road show, including high-quality projects supported by National Science and Technology Major Project for Major New Drug Research and Development.
Featured highlights of innovative pharmaceutical projects in Non-listed Company Roadshow
SMA (Spinal muscular atrophy) is an autosomal recessive genetic disorder characterized by degeneration of spinal motor neurons and is the number one lethal genetic disorder in children under 2 years of age. Shenzhen Ruijian Tongyi biotech company Co., Ltd. presented TP01HN106, an innovative biologic drug for the treatment of motor and respiratory dysfunction in SMA. Data from the investigator-initiated clinical study showed that TP01HN106 rapidly and significantly improved motor function in patients with type I and type II SMA, and appeared to have similar or even better improvement than existing drugs; rapidly and significantly improved the respiratory function of patients with type I SMA, including increasing blood oxygen saturation, increasing spontaneous respiratory rate, reducing ventilation duration and alleviating thoracic collapse; long term medication has no side effects and seems to improve the growth and development of patients. TP01HN106 is expected to be an effective and safe drug for the treatment of respiratory failure and motor dysfunction in patients with SMA.
In earlier studies, Arbele Limited found that the expression level of CDH17 molecules in gastrointestinal cancer is extremely high. Based on this, this project innovatively uses CDH17 as the target to develop humanized CDH17/CD3 bispecific antibody drugs and mRNA non-viral CDH17 CAR-NK/T cell therapy with independent intellectual property rights. The characteristic of this project is "Original Innovation", so the new CDH17-CD3 bispecific antibody drug and mRNA non-viral CDH17 CAR-NK/T treatment have the potential to grow into "first-in-class" drugs.
Lactobacillus crispatus capsule, classified as a live biotherapeutic products (LBPs), contains the strain Lc262-1 of Lactobacillus crispatus, the predominant species of vaginal lactobacilli in healthy Chinese women of childbearing age. Phase I trial showed that the live Lactobacillus therapeutic is safe and well tolerated when administrated to vagina of healthy women. Currently, results from Phase II trial indicated that the new combination regimen, e.g., simultaneously administration of both oral metronidazole and vaginal live Lactobacillus capsule to BV patients, is safe and resulted in a significantly lower incidence of recurrence of BV than placebo after 3 month post treatment (P<0.01).
Arctic Vision is a China-based ophthalmic biotech focusing on breakthrough therapies, with a leading portfolio covering from pre-clinical stage to commercial stage products. The company focuses on the ophthalmic track to solve the unsolved problems of ophthalmology through high-tech means. ATVN901 is a new type of cell injection therapy. Previous studies have shown that injection of human corneal endothelial cells combined with Rho kinase inhibitors shows good efficacy and safety in patients with corneal endothelial dysfunction. The most prominent feature of this product is to solve the problem of corneal blindness through injection rather than corneal transplantation.
Tumor immunotherapy is developing rapidly, but some targets, such as CTLA-4 and CD40, have serious side effects. Biocytogen has established a unique, in vivo target discovery, antibody screening system (Project Integrum), which can quickly identify candidates with good safety and efficacy, and therefore to better meet medical needs. YH001 is a CTLA-4 mAb. In preclinical trials, YH001 demonstrated better safety and antitumor activity than ipilimumab. 
YishengBio is a fully integrated biotechnology platform. We discover, develop, manufacture and commercialize new generations of vaccines and therapeutic biologics for infectious diseases and cancer. We have developed in-house our PIKA immunomodulating technology platform through which we empower and nurture a diverse pipeline of vaccines and therapeutic biologics with better efficacy and safety potential to address the unmet medical needs in infectious disease and cancer fields. The company has branches in China, Singapore, and the United States with more than 600 employees. PIKA technology consists of synthetic biologic complex that is originated from our research and synthesized based on our proprietary GMP manufacturing technology. Through TLR3, RIG-I and MDA-5 signaling pathways, PIKA molecule can induce a prompt production of interferon, cytokines, chemokines and costimulatory factors.
Jiangsu ProteLight Pharmaceutical & biotechnology Co., Ltd. has borne over 30 national and local science and technology projects, including the National Major Scientific and Technological Project for "Significant New Drugs Development" during the twelfth and thirteenth five-year plans, and SME Technology Innovation Fund of the Ministry of Science and Technology of China, etc. ProteLight's pipeline has 12 peptide innovative drugs with various indications under R&D. It has set up a production line of peptide spray and a pilot line of peptide suppository, which are the first in the world. Taking the source innovation idea, ProteLight has founded the leading platforms of de novo design of antimicrobial peptides and creative peptide preparations. It has completed the round C fund-raising in 2020, and the round D financing is ongoing. The company plans to initiate the list declaration of SSE STAR Market in 2022.
Beijing Infinite Brain Technologies (IBT) is a leading medical technology company that aims to provide digital curative solutions for central nervous system (CNS) diseases. By leveraging the advanced brain sciences and cutting-edge computational technologies, IBT is committed to improving the process of screening, diagnosis, treatment and management for a wide range of CNS diseases, such as ADHD, autism, schizophrenia, and post stroke cognitive impairment. The company conducts long-term scientific and clinical research, developing and providing proprietary digital therapeutic products that have been clinically validated, by partnering with national key laboratories and top research hospitals in China. Bearing the difficulties of patient and family firmly in mind, IBT strives to level up patient care with products with higher efficacy and lower cost.
2021 CBIIC Non-listed Company Roadshow presented a number of high-quality projects, bridging innovative companies with research institutes, pharmaceutical companies and capital for cooperation. The roadshows were highly welcomed by investors, which demonstrates positive reactions of the investment community for innovative projects, as well as the booming of local pharmaceutical innovation. It is believed that Chinese innovative drugs will bring more hope for patients around the world in the future!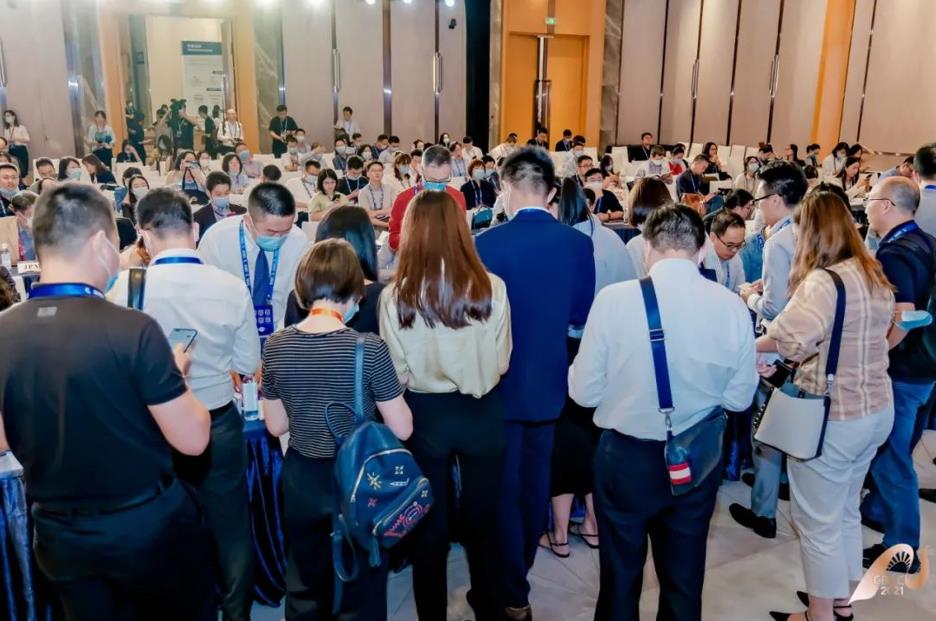 The investors showed great interest and attention to the projects